Lakland Bass Options - Components and Colors

Lakland Bass Options (changing any stock bass may increase lead time)
| | |
| --- | --- |
| Chi-Sonic Single Coil added to any 1 Pickup Bass | $200 |
| Chi-Sonic Single Coils added to any 2 Pickup Bass | $400 |
| Chi-Sonic HumCanceller added to any 1 Pickup Bass (includes Single Coil to Hum cancelled switch) | $300 |
| Chi-Sonic Hum Cancellers added to any 2 Pickup Bass (includes Single Coil to Hum cancelled switch) | $600 |
| Passive Tone Control added to any active bass | $200 |
| Hipshot Bass Xtender (D-tuner) 4 string only | $120 |
| Lakland LH-3 Preamp for 55-01 or 44-01 (installed) | $300 |
| J-Retro Preamp for all 44-60 Models | $600 |
| Mother-of-Pearl "Block" position markers and White Binding for any USA Model | $600 |
| Ebony Fingerboard (Skyline Fretless, US Fretted and Fretless) | $100 |
| Matching Color Headstock (Solid Color Only) (US Models Only) | $300 |
What You Should Know About Lakland Bass Color Choices
Lakland basses come in a variety of colors and finishes. Some finishes (Quilted, Flame, Natural) will depend on the wood available for the body. The Skyline series has more limited choices than US Series basses as us series basses are built to order.
Skyline bases are built in large batches so even though a Skyline color is listed on the color chart it may not be currently in production so Skyline color availability depends on what colors the factory is currently building and will vary over time. Lakland also builds a few Skyline "custom color" basses. They produce a limited number of basses in a non-Skyline color throughout the year. There is an up charge for Skyline custom colors. Please contact us for current Skyline custom color and model availability.
Here are some of the Skyline and US Series bass color choices, please see individual product pages for specific choices for each model.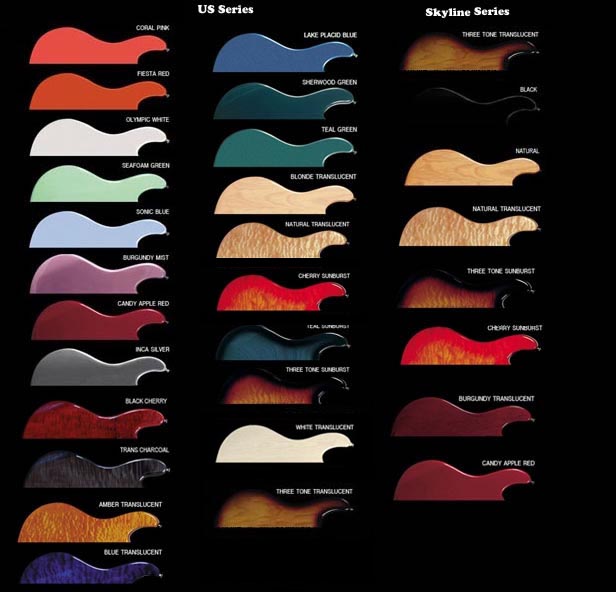 Lakland colors include coral pink, fiesta red, olympic white, seafoam green, sonic blue, burgundy mist, candy apple red, inca silver, black cherry, amber trenslucent, blue translucent,
lake placid blue, sherwood green, teal green, blonde translucent, natural translucent, cherry sunburst, teal sunburst, three tone sunburst, black, natural and burgundy translucent.